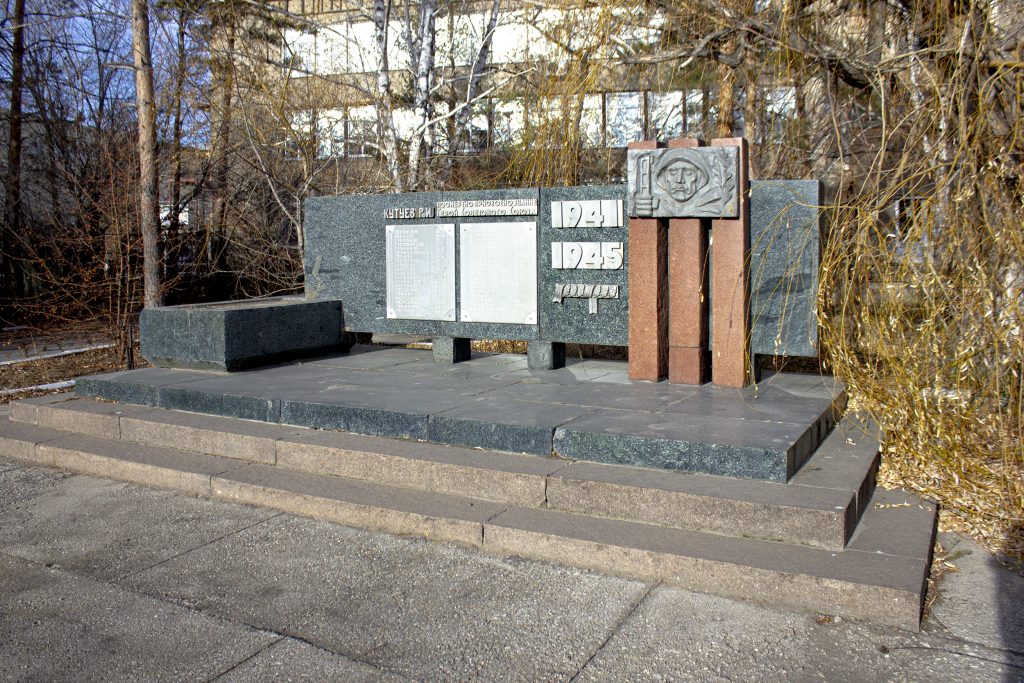 Form of monument: Monumental art object
Date of monument: 1974
Location: Aktobe city, T. Akhtanov Str. 44
Description of monument: Rauf Ibragimovich Kutuev was born on May 6, 1925 in Samara. In 1930 he and his parents moved to the city of Aktobe. He graduated from 7 classes and at the beginning of 1942 entered the defense plant number 692 as an apprentice locksmith. In January 1943 he was drafted into the ranks of the Red Army. Since August of the same year at the front. In 1944 he graduated from the courses for junior lieutenants. On September 20, 1944, he was wounded in both legs, but soon returned to duty. In December 1944, junior lieutenant Kutuev led a platoon of the 1st rifle regiment of the 99th rifle division of the 2nd Ukrainian front. Particularly distinguished himself in the liberation of Hungary. On December 5, 1944, Kutuev's platoon successfully crossed the Danube near the city of Erchi and took an active part in the battles to capture and hold the bridgehead. In the battle, Kutuev was wounded, but continued the battle. Killed while repelling the fourth enemy counteroffensive. The actions of the Kutuev platoon successfully influenced the expansion of the bridgehead, and the further attack of the main forces. By a decree of the Presidium of the USSR Central Committee of December 24, the title of Hero of the Soviet Union was awarded to junior lieutenant Rauf Kutuev for his courage and heroism when crossing the Danube and holding a bridgehead on its right bank. The name of Kutuev was given to one of the streets in Aktobe and there is a monument erected in 1975 with money collected by the factory workers, where RI Kutuev worked.
The obelisk monument consists of a complex architectural composition. The base is made of red and gray granite-block stylobate, rectangular pyramid. On the outer side of the stylobate, there are granite slabs with the inscription: 1) RI Kutuev; 2) awarded the title of Hero of the Soviet Union posthumously; 3) two tablets with the names of the workers of the plant who died in the war: BOLYCHEV V.; KI VOLKOV; GALIMOV K .; GOLOVANOV G.G .; Grechnev N.I .; P.P.DEMIDOVSKY; Demin V.M.; ZAPOROZHETS A.; Ilyukhin F.A.; F.A. KARPOV; PI KOZLOV; S. S. Kolobovnikov; M.O. Kuznetsov; KA LATONOV; I. I. LESHCHENKO; LYAMIN I.N .; KV MATROSOV; A.F. Morozov; Panyukov I.N.; PETROV M.Ya.; PSHONIN N.; RAMENSKY I.A.; M.V. SAMARIN; T.A.SIDOROV; A.A.SOBOLEV; N. N. Sokolov; S.F. STEPANOV; STEPANOV P.U.; G. I. STEPANOV; A.B.SYABITOV; L.P. TOBAKOV; M.P. TULUPOV; V.P. FEOKTISTOV; KHAYRULIN G.; KHAYRULIN G.; I. KHOMYAKOV P.; KHOKHLOV V.; V. V SHINDIN; SHISHINKOV N.N .; P. T. SHUVALOV
Among them is the first head of the Komsomol organization of the plant – Georgy Stepanov, who died in a special partisan detachment.